Author's Note: This article contains links to Youtube clips so that you may listen to the music. I have also added links for to further reading and more detailed information about lyrics and origins of particular songs. This is the unabridged article that was published for Fulbright Korea Alumni Relations. This article is a continuation of my coverage of the protests in South Korea. Read the previous article, "A Time for Protest". All photographs were taken by me.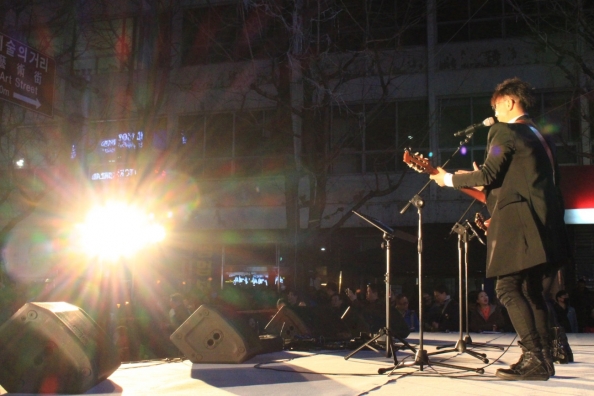 Friday, March 10, 2016, 10:59am — My students sit tensely with anticipation as we watch the television and wait for the the impeachment results from South Korea's constitutional court. Cheers erupt around the classroom to the unanimous decision to uphold the impeachment of President Park Guen-hye.
This decision came after months of protests that moved millions to expressed their feelings on streets across the country. I have only attended a number of protests in Gwangju and Seoul during the height of the Park Geun-hye scandal and protest fervor. Having witnessed these demonstrations, I was struck not only by the sheer number of participants, but also by the music— this soundtrack to change. Throughout the world, music has driven socio-political movements from stirring rebel Irish passions to igniting anti-Vietnam war sentiments in the USA. These protests would not be the same without the music unifying the people's feelings and emotions, and rekindling memories of the past when Koreans fought and died to bring about democracy.
These protests have not always been so sanitized and peaceful. Modern South Korean national identity is rooted in the struggle for democracy against an authoritarian military government. The southern city, Gwangju, where I currently live, and the larger North and South Jeolla provinces in particular have a long and bloodstained history. May 18th, 1980, known simply as 5.18, marks the Gwangju Uprising, when hundreds of student activists and civilians protesting the marital law, were brutally tortured and massacred by the government, under dictator Chun Doo-hwan, in order to suppress the democratic movement. This event become a powerful symbol of the power of the people and helped to usher in a distinct genre of lyrical social protest known in Korean as minjung gayo (민중 가요), or "protest song", an offshoot of Korean folk songs, as a part of the larger minjung or people's movement (Chang 211) .
Inspired by American folk singers like Bob Dylan and Joan Baez, this particular musical movement acquired the name norae undong (노래운동) or "song movement" and brought "political awareness and cultural activism into the domain of Korean popular music" View full post »