Author's Note: This article contains links to Youtube clips so that you may listen to the music. I have also added links for to further reading and more detailed information about lyrics and origins of particular songs. This is the unabridged article that was published for Fulbright Korea Alumni Relations. This article is a continuation of my coverage of the protests in South Korea. Read the previous article, "A Time for Protest". All photographs were taken by me.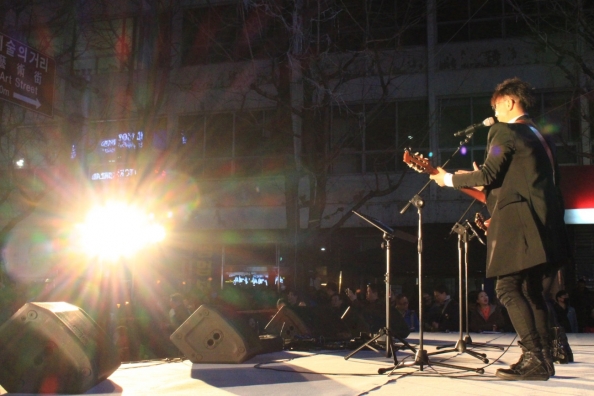 Friday, March 10, 2016, 10:59am — My students sit tensely with anticipation as we watch the television and wait for the the impeachment results from South Korea's constitutional court. Cheers erupt around the classroom to the unanimous decision to uphold the impeachment of President Park Guen-hye.
This decision came after months of protests that moved millions to expressed their feelings on streets across the country. I have only attended a number of protests in Gwangju and Seoul during the height of the Park Geun-hye scandal and protest fervor. Having witnessed these demonstrations, I was struck not only by the sheer number of participants, but also by the music— this soundtrack to change. Throughout the world, music has driven socio-political movements from stirring rebel Irish passions to igniting anti-Vietnam war sentiments in the USA. These protests would not be the same without the music unifying the people's feelings and emotions, and rekindling memories of the past when Koreans fought and died to bring about democracy.
These protests have not always been so sanitized and peaceful. Modern South Korean national identity is rooted in the struggle for democracy against an authoritarian military government. The southern city, Gwangju, where I currently live, and the larger North and South Jeolla provinces in particular have a long and bloodstained history. May 18th, 1980, known simply as 5.18, marks the Gwangju Uprising, when hundreds of student activists and civilians protesting the marital law, were brutally tortured and massacred by the government, under dictator Chun Doo-hwan, in order to suppress the democratic movement. This event become a powerful symbol of the power of the people and helped to usher in a distinct genre of lyrical social protest known in Korean as minjung gayo (민중 가요), or "protest song", an offshoot of Korean folk songs, as a part of the larger minjung or people's movement (Chang 211) .
Inspired by American folk singers like Bob Dylan and Joan Baez, this particular musical movement acquired the name norae undong (노래운동) or "song movement" and brought "political awareness and cultural activism into the domain of Korean popular music" (Broughton 165). It became popular at universities in the 1970s through student singing clubs. Banned songs were distributed through illegal recordings and tapes. These minjung gayo songs aimed to bring attention to various social issues such as the movement for worker's rights, unification of North and South Korea, criticism of the USA, human rights and political change. However, by the end of the 1970s this music had pervaded everyone's daily lives and minjung gayo had become a ubiquitous symbol for anti-government and pro-democratic movements protesting against the authoritarian regimes of Park Chung-hee (박정희)—the recently impeached Park Guen-hye's late father— and Jeon Doo-hwan (전두환). Many songs commemorate the Gwangju Uprising and other historical events and are still sung to this day as a part of protest music (Lie 53).
Protest Music
After a class lesson on the American presidential election back in November, my co-teacher came up to me and commented that a political lesson like this might not have been so successful a year ago. "I think Korea's youth are finally becoming aware of political problems and are happy to learn and become more involved." It seems true; many students have taken it upon themselves to give up a day of studying and go out onto the streets and sing and protest.
Music is an integral part of Korean protests. In all the demonstrations for Park Guen-hye's impeachment and the celebratory day-after-the-impeachment rally that I have attended, minjung gayo songs have made their mark. Many new popular songs from popular soundtracks and trending songs from k-pop charts are also played accompanied by the constant interludes of passionate orators on megaphones and samul nori, Korean traditional percussion instruments and drumming. In a successful attempt to keep the protests peaceful, the protests feel more like festivals than protests. Volunteers pass out candles, posters, and even re-usable seat cushions. They hold massive candlelight vigil-protests, which also can change the atmosphere into something more somber and darker. In the center of these demonstrations it's not uncommon to see a massive stage erected with rigging for lighting and sound.
Artists of all ages, wishing to share in the protest spirit through performance, have come out to participate. One young woman told me that, "music is a way for the people to feel united when they sing together" and is a peaceful form of protest, where another older ajusshi, remembering back to his participation in the 1980 Gwangju Uprising, said that these songs are "fighting songs". As a fellow musician, it is true that you can feel the energy and the emotions of the crowd as people sing together, swaying and passionately punching the air.
The People's Songs
The genre of minjung gayo songs hosts a plethora of famous titles and musicians. Many also have been forgotten. Below are two prominent songs that I have heard at every single protest I have attended. A longer list of songs can be found at the end in the appendices:
A march for March for the Beloved – 님을 위한 행진곡 / 임을 위한 행진곡

I was told by a Korean friend that you cannot have attended a rally or gathering in Gwangju and not have heard this song. It is probably the most famous song in the South Jeolla Province, rivaled only by Arirang. It was written in 1981 by Baek Kiwan and Kim Jong-Ryul (composer) about a couple that died during the Gwangju Uprising. Despite having different titles (also called "March for Thee" and "A March for Honor") and lyrical variations, it has become a symbolic song for Gwangju and the 5.18 democratic movement. It was quickly banned after its creation, but spread nonetheless. The song was only officially recorded in 1991. This song plays every day at 5:18 from the 5.18 clock tower in the Asian Cultural Complex (former Jeonnam Provincial Office) in Gwangju.
Listen:
Further Reading: 5.18 Education  / Korean Namu Wiki / Korean Wikipedia
Gwangju Chuljeonga Anthem – 광주출전가
Once again the 5.18 Gwangju Uprising was the animus for this song. It was written by poet Gogye Tae and composed by Jeong Se-hyun. Chuljeonga (출전가) is a song you sing when you go to war. Despite having a complicated, controversial, and slightly confusing origin as a "victory fight song", for 5.18 related events, it is often called the "Song of May". It is the unofficial song of Gwangju.
Listen:
Further Reading:  5.18 Education / Korean Namu Wiki
Both songs were inspired by the Gwangju Uprising. At the 35th anniversary of 5.18, the streets were filled with people and various performances are being held on the stage. The video of the 35th anniversary is a fabulous example of what the protests have been like. There has been community art, speeches, theatrical performances, samul nori, all genres of music, and of course minjung gayo songs including "Gwangju Chuljeonga Anthem". They even often use non-Korean music and change the lyrics. One song that struck me was the use of Les Misérables', "Do you hear the people sing?" which has been used before as a protest song before all over the world including in Hong Kong in 2014. The song resurfaced in 2016 in South Korea as an anti-Park song.


New Music Protest Music
Korea is famous for taking already-existing music and changing to lyrics to fit their own needs, whether it be about the tragic sinking of the Sewol ferry or to express their anger at a presidential scandal. In the recent massive protest movement to impeach Park Guen-hye, two catchy songs (which for a long time I naively called the "hi-ya" songs) can be heard across the country.
Resign Park Guen-hye Songs
The original songs are "What Kind of Country Is This?" (이게 나라냐) and "Arirang Shepherd Boy" (아리랑 목동). Song writer Lim Han-bin changed the chorus of of "Arirang Shepherd Boy" to make all the 'ya's into 'haya's which means "resignation" in Korean and 'howok' means "imprison". The lyrics are further changed to describe Park as a "puppet" who "screwed the nation." "Arrest Park Geun-hye […] Cough out all the money you have gobbled up," the song goes before shifting to the chorus again.
Listen:
Truth Does Not Sink (진실은 침몰하지 않는다)
There are a number of songs commemorating the tragic 2014 Sewol ferry accident which made a re-appearance at anti-Park Geun-hye protests. One famous song written and composed by Yoon Min-suk (윤민석) is "Truth Does Not Sink". Lyrics include, "Darkness cannot defeat the light; Lies cannot defeat the truth; the truth does not sink; We do not give up."
These protest songs rekindle emotions from a previous generation, who fought with their lives for democracy. By playing these tunes, the people of Korea are allowing these voices from the past to continue to speak to the events of the present and to shape the future befitting their desire for justice and fair representation under democracy. Whether it is singing the latest OST from a popular Korean drama or bringing back the past with famous folk songs from the 1970-1980s, music has brought people together. Sing for all the world to hear.
Appendix 1: Representative Democratic Protest Music
While the minjung gayo genre is a more general musical genre calling for social change by the people, due to the nature of the protests, this list is focused on the pro-democratic songs. This is a list of a few notable songs. However, the full list of Minjung gayo singers and artists, can be found here.
With a burning thirst (타는목마름으로) – 1980 by Kim Kwang Seok (김광석)
The poem was written by Kim Ji-ha was and published in 1975. It was adapted in the 1980s by activists and intellectuals and used to promote democracy. The two recordings sung by Kim Kwang Seok and Ahn Chihwan are most widespread. You can also see Kim Kwang Seok's live concert recording. One of Kim's most famous songs—and my favorite too—is Stand Up (일어나) – 1994 (this clip has the English and Korean lyrics).
Morning Dew (아침이슬) – 1971 by Kim Min-ki (김민기)
It was not intentionally created to be a protest song, but was adopted as one later on. "Despite no direct inference to a political struggle in their conceptions, the words of the songs could be interpreted as activists' yearning for a democratic society. Soon the songs took on a life of their own as protest songs" (Shin 11).
Evergreen Tree (상록수)  by Kim Min-ki (김민기)
Kim Min-ki wrote and composed of music for this song also. After her previous song, "Morning Dew" gained notoriety and was banned, he wrote this song about the labor movement. Later it became a a pro-democracy song representing the struggles of the people.
A Person is More Beautiful Than Flowers (사람이 꽃보다 아름다워) – 1997 by An Chi-hwan (안치환)
An Chi-hwan is a well known protest singer, still alive and writing songs today. A 1993 Washington Post article called him the "Peter, Paul and Mary of South Korea" with his folk-rock style and poetic lyrics. He was interviewed after many of his songs made a comeback in the recent protests against Park Geun-hye. Some other well-known songs include In the Wilderness (광야에서) 1994, If I May (내가 만일) 1995, We're trying to figure out (우리가 어느별에서) Feat.장필순 1995 and newer songs like Brush Green Brush 솔아 푸르른 솔아 2016.
I call out to settle (청산이 소리쳐 부르거든) – c.1980
A poem written by Yang Yeong-woo (양성우). The feeling in one's heart due to the long-term ruling of the authoritarian regime from Park Chung-hee to Chun Doo Hwan; the  heart that dreams of the beautiful world of the unknown leaving the unhappy reality (청산)
South Korea is a Democratic Republic (Constitution Article 1) –
대한민국은 민주공화국이다 (헌법 제1조)
Written in 2008 by Yoon Minseok (윤민석), often sung by a children's choir.
June 6 Democratic Movement (유월의 노래-6월 민주항쟁 관련)
A dauntless spirit (의연한 산하) – by No Chas-sa (노찾사)


Works Cited
Broughton, Simon, and Mark Ellingham. World music: the rough guide. London: Rough Guides, 2000. Web. <https://books.google.co.kr/books?id=QzX8THIgRjUC>.
Chang, Paul Y. Protest dialectics: State Repression and South Korea's Democracy Movement, 1970-1979. Stanford: Stanford U Press, 2015. Web. 12 Mar. 2017. <https://books.google.co.kr/books?id=u7fnBgAAQBAJ&lpg=PP1&pg=PR4>.
Choi, Sheena. "Protesting Identity: Memories of the Kwangju Uprising and Effects on Identity Formation of Youths." Educational Perspectives 46.1-2 (2013): 1-11. ERIC. Web. 12 Mar. 2017. <https://eric.ed.gov/?id=EJ1088346>.
Lee, Namhee. The making of minjung: democracy and the politics of representation in South Korea. Ithaca: Cornell U Press, 2009. Web. <https://books.google.co.kr/books?id=oC1UpVz0h5w
Lee, Sang-Eun. Music and Politics in the May 18 Gwangju Movement, South Korea. Diss. Emory U, 2010. N.p.: n.p., n.d. EMORY Electronic Theses and Dissertations. Web. 12 Mar. 2017. <https://etd.library.emory.edu/view/record/pid/emory:7shjk>.
Lie, John. K-pop. popular music, cultural amnesia, and economic innovation in South Korea. John Lie. Berkeley: U of California Press, 2014. Web. 12 Mar. 2017. <https://books.google.co.kr/books?id=PVglDQAAQBAJ&lpg=PP1&pg=PP4>.
Shin, Hyunjoon, and Seung-ah Lee. Made in Korea: Studies in Popular Music. New York, NY: Routledge, 2017. Web. 12 Mar. 2017. <https://books.google.co.kr/books?id=Wl0PDQAAQBAJ&lpg=PA1&pg=PA1>.
정대하 , 기자. "오월 광주를 노래로…'민중 대중가요' 전국에 뿌리다." 한겨레. N.p., 23 June 2013. Web. 12 Mar. 2017. <http://www.hani.co.kr/arti/society/area/592947.html>.