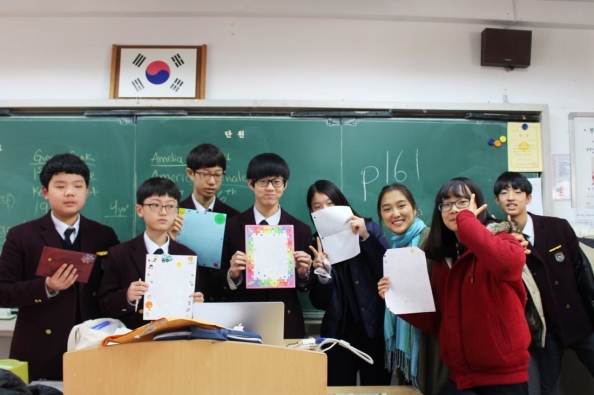 From almost the beginning of school, I have been posting statues on Facebook and Instagram about life at school accompanied with #TeacherTales. This is an year's worth accumulation of my "Teacher Tales" which has created memorable vignettes of my life teaching at middle school, in South Korea and all the ups and downs in-between. 
---
Monday, October 12, 2015
Today, I asked a female student to walk with me to my office. She doesn't usually come to that part of the school. While we were there a group 8th grade boys ran past. She turns to me and says, "Teacher, I visit you more."
Me: "Why?" (Thinking that she liked talking with me).
Female student: "This hallway. Many handsome boys."
Wednesday, October 14, 2015
Today, every side dish and even the soup was ridiculously spicy. So all I ate was rice.
Wednesday, October 28, 2015
I'm having my middle school students write pen pal letters to their American counterparts. Instead of writing about her family or hobbies like the rest of my students, she wrote a 2-page report, detailing Korea's modern history with the West and their relationship with Japan, including the prominent issue of comfort women and rape and Japan's colonization and occupation of Korea, among other contemporary and controversial issues.
It's an incredible essay, but maybe not the best to send as a pen pal letter… It also ends a bit poorly with a rant criticizing America for assisting Japan after the earthquake (as the earthquake is meant to be "divine punishment") and passing laws that benefit Japan, but not Korea. The letter ends with, "Thanks for hearing our story. Now you have to be US president to change Japan's dirty mind and history. I will be president of [Korea] and receive their apology."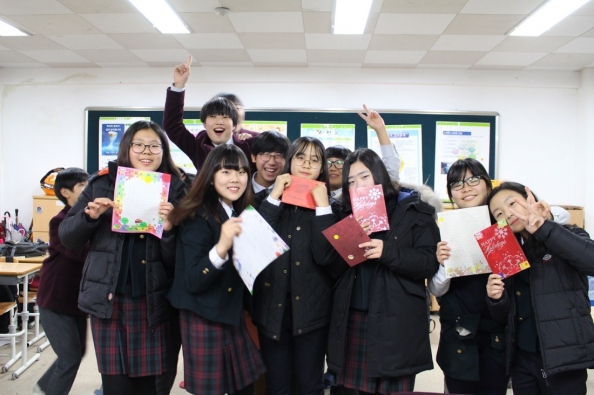 Thursday, October 29. 2015
Today, 5 students walked into the teacher's office to find a teacher to interview for the student paper. All the Korean teachers refused, insisting the students interview me, the foreign teacher. Finally a stricken student walked over and said, "I no English-ee". It was a painful start, but we managed to get through the questions in Konglish, as my co-workers looked on with smirks on their faces. I think this was the best English lesson for my students to date! At least they were smiling by the end (though perhaps it was only their relief with interview ending).
Friday, October 30, 2015
One 1st grade (USA: 7th grade) student saw me leaving school today with my small rolling suitcase and asked, "Teacher, you leaving?!" I should've heard the slight panic in his voice, because when I answered with, "Yes" he ran up to me and was like, "Don't go to New York yet!!!" Only when I said I was visiting Seoul for Halloween did he laugh and run off.
Monday, November 9, 2015
Today, was another day full of speaking tests. One student regaled me with how he climbed Mount Everest when asked about a recent vacation (fictitious or real). I had another student tell me how he's sad that no one is ever home. His dad works in the USA and his mom works in Seoul and only visits on the weekends. I asked who lives with him and he said it's only him and his older sister, whom he never sees because she's been studying for the sooneung (university entrance exam). At 13 years old, says he cooks and eats dinner alone. I'm not sure if I should've hugged him or not. But I really wanted to.
Thursday, November 19. 2015
Today, I asked a student a student what he likes to do in his free time, expecting the usual answer of sleep, soccer or computer games. I didn't expect him to say, "I go to toilet."
Monday, November 23, 2015
Today, I finally got serious and joined the boy's pickup lunchtime soccer game. Half the school ended up watching as I scored the winning goal. I think I'll be commanding utter respect from my students for a while. They're still in awe that a girl can play soccer.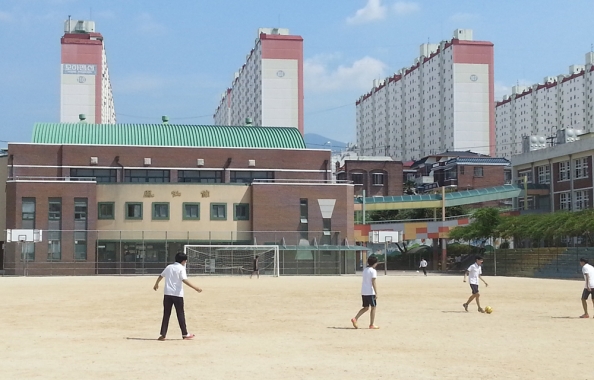 Wednesday, November 25, 2015
Today, when I asked my students what they were thankful for, one of my 3rd grade (USA: 9th grade) boys replied, "I'm thankful for my young girlfriend" and one of his friend shouts, "Yes, his girlfriend is 1st grade! Young girlfriend!!!!!" which was followed by a chorus of ooos and ahhs.
Saturday, November 28, 2015
Yesterday was my worst day teaching. I had 9 students sneak off during the class break and not return. They played hooky. One of my worst students (the ring leader) I caught leaving. I told her to stop in English and then Korean. She shouted, "I don't understand you!", pulled away from me and fled, cackling. After reporting her, this morning she came to me before lunch and apologized. I couldn't tell if she was doing so to erase the bad mark on her record, which is allowed at the teacher's discretion (she's very manipulative), or if it was genuine. Either way, after leaving, my co-teacher leaned over and said that she failed getting into a competitive high school, and she only applied to one despite good advice to apply to others. It made me wonder why she does the things she does. I don't want to see her fail; she is one of the top A-level English speakers in class too without even trying, so I know if she applied herself she could do so well. However, every day she is one of my biggest frustrations and headaches.
Monday, November 30, 2015
Today I asked a student how he was doing and he said, "Fantastic!". When I asked why he responded, "Teacher, I have many pimples, but yesterday I make girlfriend and I have good friends in class."


Tuesday, December 1, 2015
That time a student gets so enthusiastic about a game we're playing in class that she jumps up with her arms raised and punches you in the face.
Friday, December 4, 2015
When you witness the class captain grab a misbehaving student attempting to flee the faculty room by the hair, foiling his escape, and dragging him back to his homeroom teacher for punishment…
Monday, December 7, 2015
My students are so mean. I thought doing a fun "yearbook" signing activity for the last day of class would be fun, but despite my strict rules on what students should say or do, most of the students just enjoyed defacing each others papers and saying really mean or nasty things. I couldn't tell if it was all in jest or not, but either way, that lesson totally imploded.
Wednesday, December 9, 2015
One of my coworkers just ran around the teachers' office handing out 자유시간 (Korean Snickers candy). She gave me three and saying, "for energy." I guess it looks like I need it?  ‪
Friday, December 11, 2015
Today I taught my students the card game, presidents and paupers. I love lunchtime with my students and they really took to the game. We all groaned when the bell rang…
Monday, December 14, 2015
That feeling when your afternoon classes are cancelled but you're then invited on a field trip to see a play, although your students get all worried that you won't understand anything.
Tuesday, December 15, 2015
When you walk outside after lunch to see your students using the dustpans as a strange skating apparatus on the frozen sheets of ice… And you remember when you and your friends used to steal the lunch trays to go sledding down the small hills when you were younger.


Thursday, December 17, 2015
Has no classes today because of final exams. Still has to desk-warm.
Saturday, December 19, 2015
As I read all of my younger college friends' posts about finishing their final exams, I realized the irony of the situation that I'm no longer on the receiving end!
Monday, December 21, 2015
Co-teacher: Hey, I have to finish grading. Could you do this class alone? They [my 3rd graders] only have the reading activity planned.
Me: Sure, no problem.
Co-teacher: They won't want to pay attention much. Just make sure they stay on the classroom.
Tuesday, December 22, 2015
I'm not sure how to respond to this contradiction a student wrote on her teacher evaluation…
She likes how I share American culture, in the classroom, but thinks I should be more Korean?

Wednesday, January 27, 2016
Today, I went out to lunch with my co-teacher. The waitress asked if we were mother and daughter. My co-teacher almost choked on her water, mumbling, "Co-workers, we're co-workers…" My cote looked at me sadly and said, "Do I really look that old?"
Friday, January 29, 2016
Today was one of my craziest, but most fun days of my English camp so far. Students learned to write their own recipes and the activity was to write a recipe to make a PB&J sandwich. I said they needed to be very detailed, and they would follow their recipe. If they didn't mention they needed a knife for example, they didn't get a knife. Muhaha…
Friday, February 5, 2016
Hanging out with some students at lunch. Only two more days until these girls graduate from middle school!


Thursday, February 25, 2016
That feeling when your one of your co-teachers requests to arrange this semester's schedule so she has more classes with you because she says she enjoys teaching with you and find your activities fun.
Monday, February 29, 2016
I was happily surprised when my Fulbright co-teacher and some other co-workers brought a cake this week to celebrate my birthday. It'd been a week of desk-warming with no students to entertaining me through the cold, silent, days at school…
Thursday, March 3, 2016
The first week of school was successful. I got all my students enrolled in Quizlet and am posting vocabulary from the textbook there for them to study at home. One student came up to me today and said, "With Quizlet, maybe I don't have to go to hagwon anymore!" Haha…
Friday, March 4, 2016
When I speak English at school with my coworkers it's hard for them to understand me. But when I try to speak with them in Korean, they giggle. My co-teacher laughed at me this morning when I greeted the visiting principal with, "안녕하셉니까" instead of my usual, "Good morning!"
Tuesday, March 8, 2016
One of my students said that I looked like Mulan. When I gave him a strange look, his friend chimed in, "Teacher, it's compliment. Because teacher is pretty like Mulan!" I guess telling someone they look like Mulan is a new way to compliment a lady. She's a bad-ass, awesome girl. I'll take it.
Wednesday, March 9, 2016
I have a student who bows to me like I'd imagine some Victorian English gentleman might, with a hand on across his midriff and the other clasped behind his back. I almost laughed in his face this morning; I can't take him seriously. Taking insa to the next level.
Thursday, March 10, 2016
Today, I had a strange day in the extremes. I had a class that was super fun, but bouncing off the walls, and a class didn't want to go anything and it was awful… Did I also mention I also had a student grab me by the hair and not let go, when I leaned over to check the student's work?! My co-teacher told me later that the student was obviously a new special needs student. Thanks for telling me beforehand.
Monday, March 14, 2016
Today, I saw student was carrying a pillow in the hallway. He said he would use it to sleep in class. I give him a look and he quickly backtracked, "Oh, but I won't sleep in your class!"
Friday, March 18, 2016
I met a former student at the bus stop today. He was a trouble-maker when I had him as a student last year and he proceeded to greet me with, "Hey! It's Teacher Money!!! Hi Cara 돈!" With these students, I either feel like laughing with them or throttling them…
Monday, March 28, 2015
My co-teachers went from "어떡해?!?" (What to do?) that has concluded in "집에 가세요" (Go home). Getting sent home from work early because you have no voice. You kinda need it when you teach listening and conversational English
Tuesday, March 29, 2016
Today I caught one of my male students on his cell phone playing a game. When I asked him for it, he shoved it down his pants and said he didn't know what I was talking about.
Thursday, March 31, 2016
Today, I had my first really unpleasant encounter with some 1st grade middle school students. As I came into class, two boys ran up and said, "Teacher, hair! Curly!" "Teacher is beautiful. Cara Teacher is pretty!" (a very typical experience for most teachers in Korea). What I didn't expect was for the student to say, "Teacher, he does this for you", while making a vulgar hand gesture by his crotch as if he was jerking-off. When a third student saw my expression, he decided to help in explaining the situation by saying, "They stupid. He likes sex. You very pretty," all while moving his pointer finger in and out of his fist. Tl;dr: Afterwards, all parties were dealt with and educated about sexual harassment.‪
Friday, April 1, 2016
I have been looking forward to April Fool's Day for a while, trying to think up a good low-preparation prank that wouldn't take up too much time. As class started, I began my normal beginning of class teaching routine… entirely in Spanish! My students were confused and then thought it was hilarious. I'd say that went over really well.
Monday, April 4, 2016
I walked into class to see one of my 1st grade boys at the back lying on top of the lockers. When I asked what he was doing, all he did was giggle and put his hand on his waist in a sexual, yet hilarious pose.


Tuesday, April 5, 2016
A felt someone tap my shoulder on the bus. I looked over to see a boy bow and say "안녕하세요 선생님!" I'm assuming they were a student who graduated last semester since I don't remember them and they were wearing a different school uniform. They exited the bus before I could see their face and now it's really annoying me.
Wednesday, April 6, 2016
Today, after I told a student I wouldn't write him up this time for being late to class and then lying about it, he jumped on his desk and shouted, "Captain, my Captain!"
Friday, April 8, 2016
"Oh, he has a white hair!!!" exclaimed my one of my students before turning to sort through his sleeping friend's head to pluck out the offending white hairs.


Wednesday, April 13, 2016
Today, a student got on the bus with me. He asked what I was listening to. We ended taking about music and listening to my iPod for the 20 minute bus ride home.
Thursday, April 14, 2016
I walked into my 2nd grade class to see a bunch of boys giving each other massages. One kid was lying on the floor, his friend straddling him with fists pressed into his back, pummeling his spine. The kid didn't seem to mind. What was more hilarious was the other boy lying across three chairs with his head resting in his friend's lap as his friend dutifully administered a face and head massage. They even offered to give me a back massage at my skeptical look in their direction.
Friday, April 15, 2016
Today, a student got on the bus with me. He asked what I was listening to. We ended taking about music and listening to my iPod for the 20 minute bus ride home.
Monday, April 18, 2016
I was taking my daily post-lunch walk around the school yard when I encounter a student and her friends stripping the only cherry blossom tree (now in full-bloom). When I asked why she was doing that, she wanted to be like a flower.


Tuesday, April 26, 2016
Today I walked in to see a 1st grade male student wearing a girl's uniform. He's the trouble-maker of the class and proceeded to strike not-so-appropriate poses through gales of laughter from the other students. I asked through my shock who's uniform it was and he pointed to the girl sitting next to him, still dressed in her P.E. clothes. I took his photo (sorry, not going to post that one) and then asked that he go change before he gets into real trouble.
Thursday, April 28, 2016
Work Hard, Play Hard…? So today, after two solid days of rain, it finally stopped. However, the students who always play soccer during lunch were upset to find that the field was still flooded with water. So one boy got a "genius" idea to use a dustpan to disperse the water to dry the field so they could play soccer…
By the time lunch hour was over almost 40 students were shoveling dirt around, complaining how it wasn't working. LOL. Teachers yelled at them about their indoor slippers (or lack there of), but it was ignored. Spectators gathered along the bleachers to watch the entertaining scene, which ended in a mud fight. Oh the joys of being a middle school teacher.


Tuesday, May 3, 2016
A student just came in and called his teacher, "Lee Sunjoon Sama!" It's even funnier that the teacher answered. ('Sama' is a Japanese honorific term, reserved for the emperor, a great lord, or God. My students love sprinkling Japanese and English phrases into their everyday vernacular.)
Wednesday, May 11, 2016
PSA: So my Korean has finally reached a level where I can effectively chew-out a student for skipping out on my class.
Friday, May 13, 2016
Today was School Sports Day. It's the equivalent of Field Day in the USA, but just ten times more intense. Each school does it a bit differently. This year one of the big events was tug-of-war. When asked what sports kids play in the USA, I laughed and said that this event was banned ay my school since there were too many injuries. A co-worker nodded and said, "Oh I see…" as we all glanced over to the nurse's station where a line of 20 kids were patiently waiting to get bandaged up from the latest round of tug-of-war…


Monday, May 16, 2016

A co-worker and I had a long conversation today about the Korean education system, While his English was not good, we were able to do basic communication about such a complicated topic. In not so many words, he said that since Korea is such a small country, it need to focus on human capital. And that means through education. I am proud that I was able to explain that I thought learning and studying were two different things. And he finally agreed.
Friday, May 20, 2016
Today, three graduated students came back to visit their homeroom teachers. They greeted me, and I heard one girl say to her friends in Korean, "Oh no, it's the foreign teacher… I can't speak English. What to do?!?" The expression on their faces when I responded to this in my best Korean, "That's okay, I have been learning Korean since you left." Priceless.


I've come a long way from Jungwon Korean class…
Thursday, May 26, 2016
Speaking test prompt: "What do you think is one of the best inventions in the world?"
Female student: "I think makeup is best invention because make pretty face. Then many boys love."
Friday, May 27, 2016
During my partnered speaking tests, a student who I knew was advanced made my jaw drop when he rapidly and eloquently explained why he wanted to order steak, salad, and ice-cream for dinner. As soon as he finished his spiel, his partner, just as shocked as me, turns to him and exclaims: "대박!!! 외국인 야?!?!" (Wow, what are you, a foreigner!?!)
Tuesday, May 31, 2016
Lessons in Tedium: After getting caught on CCTV playing hooky from school, part of their punishment was to spend this entire week, during their free time, sorting plastic beads during their free time, by color using only tweezers (they were cheating using their hands during the video, since the teacher was away). Once they finished sorting over 2,000 beads, the teacher dumped them back into the jar and he boys had then start again…
Wednesday, June 1, 2016
Today, eight or so female students whipped out water guns during lunch and began shooting other students. Chaos quickly ensued, so the teachers shooed them outside to terrorize the younger boys. It was both amusing and shocking how "carefree" people are about guns. One student ran up, pointed it at my head giggling, and said, "Cara Teacher, water gun. Bang!" (not squirting me) before attacking her friend to my left. From somewhere a black water gun was produced, looking startling like a real pistol from afar, if it were not for the orange tip. A few teachers even got involved in shooting the students before quickly retreating from the intensity of the water fight.
Wednesday, June 8, 2016
Today, we did an activity in my cinema club class before we started the movie, The Bucket List. I had them come up and write one thing they wanted to see or do before they died. I should've seen it coming when the fifth student comes up and writes "SEX" all over the board…
Thursday, June 9, 2016
Students get an incredible amount of independence for middle school. The class captain is responsible for locking their classroom when the class goes to the gym. However, today, that student lost their key. So we spent 20 minutes waiting in the hallway while the captain went to the administrator's office for the master key. Wonderful.
Friday, June 10, 2016
I was in a bad mood when I caught sight of one student trying to very obviously inch his way out the back door of the classroom. I pounced on him, demanding to know what he was doing. Flustered, he stammered "Uh, teacher. Pants." Seeing my confusion and suspicion (my students are good liars), he turned around to show me the large tear in the butt of his pants. Oh. Gotcha.


Monday, June 13, 2016
After telling my class that I'll be changing schools after the summer, one student jumped up and said, "Yes!" I shoot him look and say, "No, you'll cry." He continued to say no, when his friend elbows him in the ribs and says, "Assh! Ya. 조용! You'll miss her" to which he sits down, looking sullen, saying nothing more.
Tuesday, June 14, 2016
Me: "Hey, what's for lunch?"
Student turns to friend speaking quickly. "Intestine???"
Other student: "Yes. Teacher. Organ soup, 맛있는."
Later – Me staring at the floating chicken brain… "Yea I'll pass…"
Wednesday, June 15, 2016
I had my best lesson today (finally!) with my worst class. My 3rd graders are usually listless and class is as silent as the grave. Modifying the game, Thumbs Up, 7-Up, I was able to get the entire class involved. Finally. Now that there's only 6 weeks left. Better late than never…?
Thursday, June 16, 2016
I have been telling my students that I won't be coming back next semester all week. I'm kinda disappointed that there hasn't been much of a reaction from many students. However, this morning after giving them the news, two students came up and hugged me, asking me not to go. I also got a thank you muffin secretly put on my computer while I was away.


Friday, June 17, 2016
A student walks over to me, asking me what I'm doing. She sees me reading a long article on my computer and suddenly "Ahhh, my eyes! It burrrrrnssss!" she cries dramatically, before turning and running from the room.
Saturday, June 18, 2016
When you tell your co-worker that you "ate your friend for dinner" instead of "ate dinner with your friend"… The struggles of learning Korean continues.
Monday, June 20, 2016
Today, a student came up to me with the English lyrics from the K-pop band, EXO, wanting to know what "Shorty" meant. How do I explain that it's traditionally a gangster/rapper's way of affectionately addressing a younger person, usually a girlfriend?
Tuesday, June 21, 2016
"Wow, look how handsome. We should take a picture!!!" Words exclaimed in Korean from the head teacher this morning, who was shocked and amused that her worst student actually wore his school uniform to school…for the first time all year.
WednesdayJune 22, 2016
My school served tomato pasta as one of the side dishes. Our this is what I thought until I took a healthy bite of pasta and spicy pepper paste.
Thursday, June 23, 2016
I used Kakaotalk emojis for inspiration and I asked students to generate a list of emotions. I was anticipating "sad, upset, unhappy…" The first word I heard a student shout was "depressed". That 학원 gap is real…


Friday, June 24, 2016
This afternoon I walked back to a classroom where I had thought I had left my student roster. The students were going to science class, so there was only a handful of students left. However, I didn't realize that one boy had taken it upon himself to change into his cooler gym uniform in the classroom. I walked in to see him butt naked from the waist down, chasing his cackling friend around, because he had stolen his pants…
Monday, June 27, 2016
One of the worst-behaved students suddenly played hooky to go to NYC with his dad for a week. When he came back I asked if he had learned any English. He said no, but at least he brought me a million dollars…


Tuesday, June 28, 2016
Today, women in sexy dresses were trying to sell makeup to the girls who walked out the front of the school. They should've been marketing ice cream to the male students instead, from all the attention they were generating.
Wednesday, June 29, 2016
I'm finding small ways to rebel. No more stockings for me. It's too hot now. Uncover the feet!
Thursday, June 30, 2016
"Awaiting their Fate"
Two middle school students caught publicly flaunting their relationship at school (hugging and holding hands) – a no no in Korea – awaiting their punishment from their homeroom teacher in the 교무실.


Friday, July 1, 2016
Today I had my open class. We had a meeting afterwards with all the people who came to critique me including my principal, vice principal, three co-teachers, and two advisers from the Gwangju Board of Education, and an EPIK teacher with his co-teacher. One older man from the Board and a current VP at a middle school's only comment for me was "You have very slim waist. You have very big voice. Good. Are you married?" As he continued to ask my co-teacher if I was a Korean-born American citizen who was interested in going on a date with his talented and eligible bachelor son…
Monday, July 4, 2016
I realized as I wrote the date on the board that today is the 4th of July. When I asked my students if they knew why today is a holiday in America, I was really startled that a number of students knew it was for Independence Day. I did have one student ask, "Independence from what?" and another student yelled, "Japan!!!" No, not Japan. That's Korea's Independence Day.
Tuesday, July 5, 2016
Me (reviewing emotions for the final exam): "How do you feel when you do bad on a test?"
Student: "Tired."
Me: "Really? You feel tired? Not angry? How about sad? Upset? Worried?
Student: "Yes, I'm very tired."
Welcome to Korean exam week, where students barely sleep and hagwons are practically 24/7 after-school cram academies.
Thursday, July 6, 2016
I had one extra class that was ahead of everyone else, so I was asked to plan a review activity or game for since I'm not really allowed to show movies. It was so last minute that I forgot about the reward for the winning teams. One of the low-level students looked at me, crestfallen. Since I had given my last supply of reward candy away, I ran back to my desk, trying to think. I was given honey-butter potato chips a while ago from another teacher. I snatched the small bag off my desk and went back to deliver it to the winning teams. I don't think I've heard my 3rd graders celebrate and cheer like that ever before. "Teacher, good (better) than candy!"


Friday, July 8, 2016
I was told at school by no less than two students and a coworker that I looked better with my hair down. Well, sorry folks. It's monsoon season and humid AF. Hair is up in a bun, stockings and socks are off, I'm a sweating, ball of stress, and I have zero shits left to give.
Monday, July 11, 2016
When your student asks for help on your English test… that's tomorrow morning. Smh.
Tuesday, July 12, 2016
I just got accosted by a group of unhappy 3rd graders. They were angry about the questions I made on the test. Sigh.
Wednesday, July 13, 2016
There's always that boy who is getting punished by a teacher next to my desk in the faculty room. He is one of those trouble-makers who is also very sweet and kind, but doesn't follow the rules or care about doing well in school.
Me: "What is it this time? 뭐 했어요?
Student: "나가서요… I went out. Smoking."
Me: ""Again?!"
Student: "Yes, again."
Me: "왜… That's not healthy."
Student: "알아요… Today, my dad came to school."
Me: "Why?"
Student: "Today is Parent Career Day. He gives lecture. He is doctor."
Me: "Your dad is a doctor!?!"
Student: "Yes. Dad is doctor. Mom is doctor. I'm  쓰레기 – trash."
Thursday, July 14, 2016
It's been "Goodbye" week and as the calendar counts down, the goodbyes get more sincere, tender, and frequent. Today, a student who maybe said three worlds the entire year came up after class and said, "I'lll miss you. 가지마!" Then she gave me the warmest hug I've had from any student thus far. Closest I've come to balling my eyes out in front of the students.
Friday, July 15, 2016
Walked past a classroom after school today to see this. I was told that they have to kowtow 500 times while they mediate on what they did to deserve punishment. I guess this is a new form of my school's corporal punishment.
 Today, I was also told to "Break my legs!" by a student. I think you mean to say, "Break a leg"….
 Monday, July 18
Today, I found out that my 1st graders give the best hugs. Even though I've taught them the least amount of time, they seem to care more about me than the 3rd graders. Feeling all the feels right now.
Tuesday, July 19
The last two days I haven't left school before 6:00pm of my own volition. It's been busy, finishing up the school year. Lots of cards to write and things to prepare and papers to go through. Too bad they don't pay overtime…
Wednesday, July 20
Today was uneventful. All the real good-byes happened yesterday. I ended the year with my worst class, so it didn't feel like the end. I left school today with a heavy heart and hands full of bags of stuff and hundreds of photos. I ended the week doing KSS: Korean Students Speak, reloaded. That album's to come. Goodbye for now, Korea. See you soon, America!


Despite all the headaches and times of frustration, I have really enjoyed teaching such crazy, fun, and energetic kids. I will miss Bongsun Middle School and all the people I've gotten to know very much.