There are many famous hanok villages in Korea, but arguably one of the most famous and well-preserved is located in Jeonju (전주한옥마을). So what do you do on a Saturday when you have nothing planned? Take a bus ride to your nearest hanok village with a friend, convince her to wear hanbok with you so you can feel pretty and dance around gorgeous old architecture taking photographs and eating delicious food. That's what.
My friend, Katrin, and I made an impromptu decision to go after she brought it up as a place she had wanted to go to for a while. Honestly, I hadn't previously known anything about it. It was only about 2 hours away from Gwangju by bus. The weather was perfect; not too hot or too cold, but a nice, sunny day. I hadn't realized people went there to rent hanbok (traditional Korean clothes) for the day, but given how affordable it was, I convinced Katrin we should do it.
I opted for a more traditional hanbok: one with a short top (jeogori) popular during the Joseon dynasty and subtle embroidery. I loved it! Katrin's top is the longer style, usually worn by court ladies. If you notice in the photos below, people are wearing all different styles of hanbok. Many have huge, full skirts with gold or silver decoration, worn by royalty in the past. There's modern-style hanbok and many are dressed as gisaeng (known as the "Korean geisha" although that's a bit of a stretch). Their outfits were tighter around the waist with lavish hair decorations and styling.
The main streets of Jeonju Hanok Village are crowded and almost overwhelming. We saw sooooo many couples. I was able to get a few hilarious photos of them. One poor couple looked miserable, as you can see, while other are actually cross-dressing! The last few photos are of a a couple both dressed in female hanbok and the last one is of a couple wearing hanbok for the opposite gender. There's also a photo of me having a wardrobe malfunction when a pin came lose and stuck me. Fortunately we wore our normal clothes underneath the hanbok, so I wasn't flashing anyone.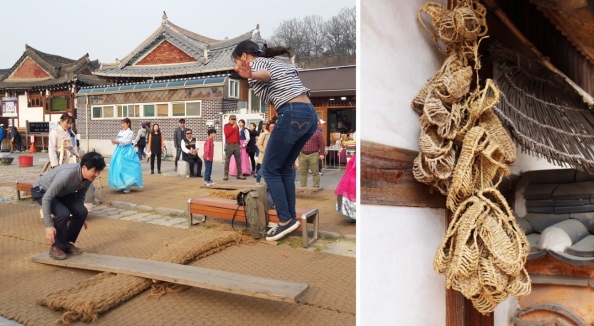 Of course when you go to a hanok village or any type of traditional festival, there's a lot of traditional games available. One of the popular ones is neolttwigi (널뛰기). It looks easy, but it's actually like a more difficult and bad-ass Korean version of seesaw. You need to be able to jump and sync with the person opposite you. Katrin and I were attempting to play when an older Korean man asked to do it with me. It was very amusing. I found out later that this is a "easy" or rather safer neolttwigi because it's not very tall. If you click the link to the Wikipedia I posted, it'll explain that the game is supposed to launch the other person into the air…
I hadn't realized how much I really like wearing hanbok. I think hanbok is so beautiful and I would love to buy one before going back to the USA… However, it can be quite expensive and I'm not sure when I'd get the opportunity to wear it. I think I'd find a way to make an occasion of wearing it though if I had one. I did have a hanbok when I was little… The photo below is me dress in a traditional baby hanbok. How things have changed! Haha…