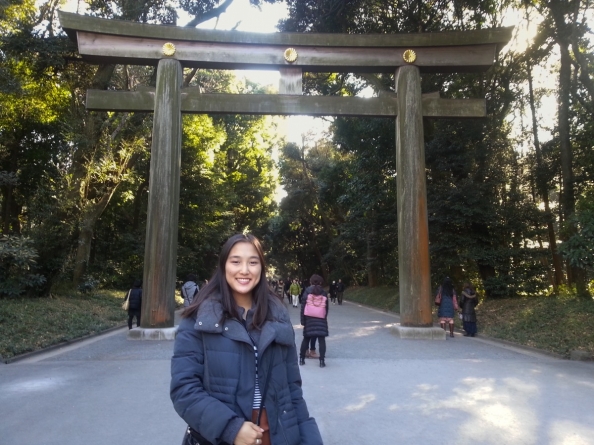 After the difficulty of negotiating dates throughout December and desk-warming for a week, I was excited to finally stretch my wings and go to my first planned winter destination: Japan (January 7 to 20).
Overview Part 1 of the Winter Break:
I spent five days visiting, Shiori, a good friend from college who had been studying abroad at the school from Japan. I stayed at her home in Tokyo and explored the city with a two trips to Nikkō and Kawagoe. My parents later met up with us in Tokyo for a few days also visiting Kamakura. From Tokyo we went to Kyoto together and also spent a day in Hakone. There we left Shiori and flew from Osaka to Seoul, South Korea to visit the capital city and tour my little city of Gwangju.
How do I summarize my whirlwind 10-day trip to Japan in one blog post? I could easily do one separate blog post for every day, but honestly I'm too lazy to write that much. So I'm breaking it into two main posts: Japan with Shiori and Japan after my parents arrive.
Planning was a little difficult, but I felt Shiori was very helpful in suggesting things to do and her family was wonderful and inviting and it helped me put money I would have otherwise used on accommodation to more important things like food. One thing I was most shocked by was the sticker price of things. Everything. Is. Expensive. After living in Korea where most things are either the same as it costs in the USA or cheaper, going to Japan was painful on my wallet, to say the least. I can stretch my dollar a lot farther in Korea.
Tokyo with Shiori
Besides recommendations from Shiori and her family on things to do and see, I used Japan Guide to fill in the blanks. With a limited amount of time, I wanted to make sure I saw and did the major things in Tokyo. Despite the rush to do things, Shiori and I spent our mornings struggling to wake up and get started and and late nights out or staying up late chatting or chilling, just like the college days… Haha. We also met up one day with two of my younger friends who were still in college and studying abroad in Japan.
Meji Shrine (Tokyo)
This was one of my favorite sites that I visited in Tokyo. I'm not a very religious person, nor do I practice the Shinto faith, however there was something mystical and powerful when I visited the Meji Shrine. It's hard to imagine that there's this ancient forest and beautiful temple in the heart of Tokyo. (We also had the good fortune of some spectacular weather the first part of my trip with cold crisp days, but blue skies).
Nikkō (日光)
This was probably hands down my favorite part of the trip. I liked all of Japan and the history, but after spending time in cities I like getting out into the countryside. Nikko was a recommended side trip from Tokyo. So we decided to make it two days and spent the night in a 200-year old traditonal Japanese house that had been converted into a guest house. It was high up in the mountains and the train ride there was beautiful, although very complicated (fortunately while we did get lost a number of times, Shiori could always keep asking for directions…)
We spent the first day visiting the numerous ancient and gorgeous temples and shrines in the area before collapsing into our floor mattresses. That night the guest house provided a delicious home-cooked meal with a calligraphy lesson afterwards. The second day, joined by one of the fellow guests we befriended at the house, we went into the national park, froze our butts off taking photos in front of a lake and waterfall, and hiking through the mountains in a vain attempt to try and find another waterfall before the sun set… We also found a real onsen (natural hot springs, 温泉) since Nikko is famous for them.
Kawagoe (川越)
Kawagoe was another day trip that Shiori and I did. It was only about 30 minutes by train from central Tokyo. Known as "Little Edo", you can see the Kurazukuri (clay-walled warehouse-styled) buildings, reminiscent the Edo Period (1603-1867). It really did feel like I had gone into the past. While it's a lot smaller than I thought it would be, there are a number of streets that are still architecturally from the Edo Period. There were lots of cute cafes, pastry shops, and stores selling traditional wares. I basically tried various traditional snacks for the entire day, as we enjoyed walking around the streets, visiting various small landmarks and of course, the multitude of Shinto temples.