So it has been a few weeks since I received my initial email informing me of my acceptance for the Fulbright to be an ETA (English Teaching Assistant) in South Korea. I have been feeling like I have been on cloud nine with some major senioritis kicking in, but reality has recently creeping back in, especially with all the paperwork that came with my official award notification email…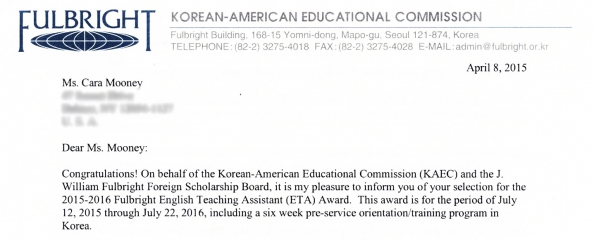 Along with this official letter, came the sneak peek at the realities that I will be facing while living and working in South Korea. All of the paperwork (medical forms, releases, terms and conditions, etc.) took a while to get together and sent out to its respective locations. This week, everything has finally been submitted and done, and I can take a breath. I have officially accepted my Fulbright award. Now comes another period of waiting anxiously for medical clearance.
Cultural Challenges of Living in South Korea
Meanwhile, I have been a lot of reading up on blogs and whatnot of what I can anticipate. There is a plethora of blogs from fellow Fulbright ETA, as well as blogs from other people who have gone to Korea (most through EPIK, the Korean government's English teaching program). There is a lot to learn about, but much of what I have been seeing, and am already somewhat aware of, are the social and cultural challenges about specifically living in Korea. Of course, one can imagine all the things that could happen, but I think it is best to prepare for what could occur and take everything in stride.
Racism in Korea
Korea remains one of the most homogenous countries in the world, and with such a large cultural divide between the culture and society in the United States and Korea, this can create many challenges for foreigners. I had heard of problems facing darker skinned, especially African Americans in Korea, but I hadn't yet explored the issue of being a Korean American in Korea. Below is a segment of the long letter I received from Fulbright.



I believe this stems from the expectations that Koreans have of Korean Americans. I can only ponder and do some investigative reading at this point, but I can see Korean Americans being held to a sort of double standard. They are either not "Korean" enough or not "American" enough. Many Korean Americans (myself included) cannot speak any Korean and been have been so "Americanized" that they are no longer culturally Korean. In my case, I grew up here with American parents, so it harder still! Among many of my worries and concerns, I am nervous about how I will be perceived. I am an adopted Korean American who speaks no Korea, knows little about the finer points of Korean culture, and has a tanner complexion than the coveted milky-pale skin of the average Korean in South Korea. What will they think of me? How will I be treated? There are so many questioning thoughts whirling around in my head along with the underlying thrill of getting to experience life in Korea first. This special opportunity comes with the good and the bad.
Special Diets/Vegetarianism in Korea
Thankfully, after spending a year abroad in Spain, my palette has expanded, or at least my willingness to try new things has expanded, so I don't have to worry much about this. I have read, though, that it is very difficult to be a vegetarian in Korea… So give me a month in Korea, and I'll let you know just how many dietary problems I encounter. I have slowly been improving my tolerance to spicy, so I will have to see how it stands up to stuff like Korean kimchi.
Mental Health in Korea
The letter also mentions mental health and how it is not well understood or accepted in Korea. I have done a good amount of reading up on this area, as I find it interesting. You could write a whole blog post, or a book for that matter, on this topic. In the news there have been trending topics such as youth suicide from pressures to excel in school and work, the lack of accommodating education to special needs children, as well as the sharp rise of eating disorders in recent years of young people.
These are just some early worries and pondering. More to come!