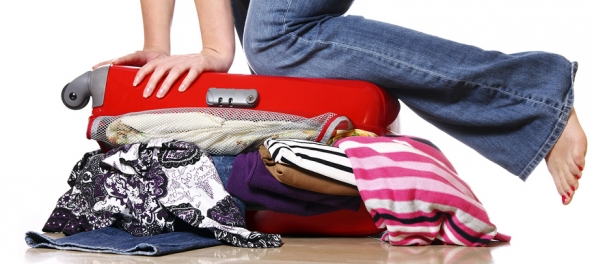 One of the biggest issues about traveling is the preparation and the packing! The task of packing a suitcase to fit the next four to six months of your life is a daunting one, especially when there is a weight and size limit. We want to pack smart, but still look fashionable, and save room for souvenirs. You don't want to look like some backpacker or camper. That can be an experience for another time.
I must have looked over dozens of packing articles, and not one really addressed study abroad, or at least study abroad for a female student (my male friends will still be able to get some good advice too though!). So this article, I am writing specifically to all my female students who are looking to study abroad… in Europe. For all you intense backpackers out there, this may not be for you; I'm talking about 20-something college students who are off to Europe for the typical study abroad adventure. Perhaps you'll be spending your semester in Thailand or South Africa, then well, of course, adapt this to your own travel purposes. As you may or may not know, I studied abroad this past year, in Spain, so this is geared to Europe. Start thinking about things to bring, but don't pack too far ahead of time! Usually the recommended time to pack (set aside items) is two weeks before your trip. Then if you're especially anal anxious, you could take all the stuff you think you need, reassess (and hopefully slim that pile down) and attempt to fit it all in one suitcase suitable for travel. (If you wish to see my packing process, check it out)
Space Matters!!! Mix and Match
So, you have to fit a ton of clothes, shoes, accessories, cosmetics, your technology gear, and whatever else into one suitcase of your airline's specified weight limit (usually around 30kg or 65 lb). You either bring two suitcases (which I would not recommend; see below) or you learn to pack light. The best way to do this is to mix and match!
My Advice: Bring interchangeable outfits; shirts that go with many different bottoms and visa-versa. Don't bring something you only wear once. Bring your favorites, so you know you make use of everything. Do not bring on blouse that can only go with one kind of skirt. That is waste of space. Add those things at the end, if you see that you have room.
Bring the basics… I like the "two rule". Two of all your basics is a good place to start, although depending on what climate you will be in, you can always bring more or less of something.
Shorts – how long does your summer season last? Two is a good starting number.
Capri – these are great because they're right in the middle of being cool and hot
Long Pants – while denim jeans are great, also think about bringing another kind of material that dries faster
Shirts/blouses – bring a few of these, since they go with everything and work so well
Long-sleeve shirts – you can never go wrong with a few long-sleeve shirts
If you are a dress/skirt person, perhaps do one less pair of shorts and pants and substitute in a skirt or dress.
Dress for the Seasons & Layer
Madrid more or less gets all the four seasons. When I arrived in August, the weather was sweltering. Every day, and even during the night, it was around 90F, and air conditioning is not as prevalent in Europe as it is in the USA! This oppressive heat stayed in the city well into the middle of September. January and February are the coldest months in Spain, although it is much milder than northern Europe. Scarves though are a must, and many Europeans wear them every day once the Fall comes around. Even in Spain at night, I donned a hat and gloves during my winter months!
My Advice: Look at your average temperatures in the country/countries you are living in and traveling to. Bring a full range of clothes, from hot, beachy summer weather, to brisk, windy, cold weather of the winter. If any of your parents are planning on visiting during the semester/year, see if you can swap your summer clothes for some fall and winter clothes (heh…)
Also layering your clothes is the best way to make use of them and to stay warm during the colder months! In Spain, much of the weather is "onion weather" where in the mornings its brisk, but by mid-day, you're in a t-shirt, then once the sun sets, it gets frigid. I would not just bring your winter coat. Bring layers! (Did I say that twice? good. Now you know it is important).
Jacket/Shell – I would bring at least one jacket
Cardigan – one or two of these is great; it adds variety to your outfits and gives a little extra warmth
Raincoat/waterproof shell/Annorak – you will want to remember your raincoat or some type of waterproof shell. How waterproof and sturdy it is depends on where you wil be and what you will be doing. An umbrella is nice too.
Water-wicking cover – if you have a raincoat, this is not really needed. If you intend to do some traveling in wetter, cooler months, I would recommend you bring one.
Fleece/Micro-fleece – I ski in the winter, and I love wearing these. They are so warm, but light! I would bring one layer just for warmth. You may never know if you will need it. Plus it makes a great pillow when traveling. Alternatively, wearing your Northface (or equivalent) is great under your outer shell. One for wind, one for warmth.
Down Jacket – I think that it is great to have a down jacket or liner with you. These things are warm, but you can squish it into a tiny little roll. Stick it in a zip-lock bag and press all the air out. It becomes a great travel-sized layer (and pillow!).
Interior Clothes: Do not forget your underwear!
This may be silly, but yes, I this happens. Many countries do not use dryers (especially in Europe)! You will always want to bring extra underwear, as it may be a day or so hanging on the line, especially once it gets colder. Oh, and don't forget your bras, girls. I know one thing many of the girls in my program were worried about was what their host families would think of their Victoria Secret underwear. Do not worry, they probably have seen it before. It is weird to know at first that a stranger is washing your personal garments, but I at least got used to it pretty quickly. No judgement here.
My Advice: If you are a person who changes their underwear frequently, 10 to 14 pairs is what I might recommend. Summer in Spain had a few of us changing our underwear a few times a day because it was so hot, all the walking and sweating…yea. Think about it. If you plan on doing any exercise, do not forget a sports bra too.
Socks – bring enough for a full week of walking. Black socks are the post popular here, or no socks at all. Also low rise, tennis socks are very popular, so it seems you are not wearing any socks.
Underwear –  yea just don't forget these.
Bras – I am a fan of the nude color, as it goes with everything, but variety is good. Strapless, racerback, black, white, ect. Don't go overboard though.
Sports Bra – as I said you will want this if you plan to exercise or do any other physical activities.
Tank-top/Undershirt – these are good because they go with a lot of things. Bring two. One black one white?
Bathing suit – depending on where you are, you might want more than one! But no matter if you're going to a place with no beaches, I always bring one. You never know!
Sarong – great for the beaches, but also if you're walking around during the day and want to visit any of the beautiful and ancient churches/mosques! Many won't all you to enter without a covering past your knees. A sarong is great to have handy to pull out and just wrap around your waist. Also it makes a great quick change stall if you want to go to a flea market and try anything on.
Dress for the Occasion & Going Out
Clubs? Bars? Special occasions? You want to look nice! Bring some outfits for going out! For all you girls who plan to go clubbing, I highly advise against heels, although you can see plenty of girls in crazy heels. If you want to put fashion before comfort, bring a pair. In my opinion, walking in stilettos are hard enough on flat ground and when most European streets and sidewalks are cobblestone… Bars tend to be more toned down and informal too. Casual wear is fine, though dress it up as much as you want. Bars are great as this is where the local crowd usually is, not at the giant clubs and discotecs.
My Advice: Bring one or two nice outfits. Remember to see about mixing and matching. One "cubby" dress, another formal dress? Alternatively, bring one going out outfit, and plan to buy one there (that's what I did!).
Skirt – one long skirt and/or one short skirt is a good place to start.
Sundress – it is great during your summery months! while I would love to bring all my of my dresses, they get a little less useful once it starts to get cold. I only brought one it was fine and bought one here.
Nice Dress – ideally, you could dress up your sundress or dress it down, but it is always nice to have a purely "fancier" dress, although since it is not a common wear item, I would add this last after the essentials are packed. This would be a fun thing to buy abroad instead.
Shoes – They make the outfit
Shoes are probably one of the most important things to pack! Euopean cities are made for walking… If you want the "European" fashion, then go buy yourself a pair of Converse or Vans (heh, American brands…). If you are able to wear these shoes ALL DAY walking, then be my guest. If you are like me, go with what is comfortable first, and fashionable second. I brought my old, broken-in pair of Nike shoes. They are more supportive and comfortable than Converse or Vans, and they don't scream "American".
Strappy, Gladiator-style sandals are also pretty in style, as much as they are in the US. They are flat, and pack nicely. Unfortunately, like most fashion-wear, they are not the most supportive, and walking in them all day is not ideal (you will do A LOT of walking). I invested in the most fashionable pair of Teva shoes I could find. I love Teva; they are comfortable, supportive, last a long time, and are more fashionable than some other brands of similar quality.
My Advice: Bring sneaker-shoes (although no one wears running sneakers for everyday use, they are comfortable. Just know that if you go this route, you will stand out immediately as an American). If you order anything online, do it in advance of your trip. For any new shoes, make sure they fit and that you have time to break new shoes in! And as I stated above, think about the high heels. I would go wedges before heels.
Flip flops – these are a must! They work great as beach shoes, shower shoes, and indoor house shoes! In Spain, it is rude to walk around the house in bare feet.
Sandals – if you can spare the room, bring two. I had my flimsy Gladiator sandals, and my study Tevas
Heels – bring at your own risk! I brought a nice, versatile pair of two-inch heels, which I wore all of five times, and I love heels!
Boots – I love boots, and I brought my military combat-style boots, which were great to tromp around in.
Flats – these shoes fold up so nicely. If you can spare the room, bring a pair.
Sneakers/hiking boots – now this all depends on your style and what kinds of activities you will be doing. I brought a nice semi-waterproof hiking sneaker for the winter and when I'm traveling everywhere on backpack, but this depends on you, and sneakers/hiking shoes weight a lot.
Slippers – if you like wearing your slippers, don't forget them, especially if you are going to a cold climate.
*** CAUTION: Shoes contribute the main weight of a suitcase, electronics excluded. While shoes are great, be picky on what to bring, should you run into overweight luggage issues.
Accessories – the must haves
Every girl knows that you need to accessorize! Often, girls will just bring too much! It is possible, albeit difficult, to pack fashionable, but also pack light. One scarf is nice to bring. It is light, can change your entire appearance, may keep you a little warm, and is a fun thing to wear. Just pick one. I know it is hard (it was for me!) but it is necessary. You can always buy a scarf there! A hat and pair of gloves are nice too if you'll be there in colder months. Baseball caps are not that popular, so if you bring one it may mark you as a tourist. Sun glasses are a must! Jewelry… Ok, I would say bring jewelry, but I wouldn't bring your most expensive jewelry! And you do not need everything. Again, choose your favorites. If you are in an area known for theft, you have enough to worry about, so leave your expensive stuff at home.
I would bring absolute favorites. Such accessories can easily be found and bought in most cities throughout Europe.
Scarf – I love these things, but only bring one. Maybe two if you really are torn.
Gloves & winter hat (also a fashion-only hat is fun)
Sun hat –  if you will be at the beach a lot, I recommend it.
Baseball cap – up to you
Sunglasses – of course, these are a must.
Jewelry – avoid bringing expensive jewelry. Oh and having a watch is very handy! Clocks in every room aren't too common.
What you forget or don't have, buy!
So I ended up wishing that I had some other clothes. Plus, I guarantee when you are over there you will buy some clothes or accessories of some sort. If you just forgot something, you can (usually) always buy it. One girl I spoke to left all her socks at home. That is an easy fix. El Corte Ingles, anyone? Keep in mind though that the Euro/Pound (at the moment) is more expensive than the Dollar, so shopping often is more expensive in Europe. It also depends on what you buy.
My Advice: Bring clothes interchangeable outfits; shirts that go with many different bottoms and visa-versa. Do not bring on blouse that can only go with one kind of skirt. That is waste of space. Add those things at the end, if you see that you have room.
Bags, Purses and Backpacks: Where to Put Your Stuff?
So this is another hard thing. Where to put your stuff. I would say safety and security first over fashion. Europe is known for its pickpockets, especially in the big, touristy cities and locations (Rome, Barcelona, Athens, ect.) and these guys as professionals. Bring a purse that can can be worn over your shoulder with a zipper closure. It should be sturdy and it is even better if it has an inner zipper pockets. Wear it right under your elbow. A backpack is also good to have, or a bag you can throw all your books and school stuff in.
When you travel on your weekends and breaks, you will want to bring your stuff in a smaller bag. Either bring a small duffel/weelie suitcase or backpack to put everything in.
My Advice: Bring a secure purse, a backpack, and a duffel bag/carry-on bag for personal travel. Make sure what you have meets budget airline baggage regulations! You can bring other kinds of purses an bags, but they are not as secure. Clutches can be ripped from your hand or forgotten, and totes are open and someone can easily reach in and grab something.
Purse – best kind is an over the shoulder purse with zipper closure and multiple pockets
Clutch/smaller purse – great for the quick going out, but be especially aware of getting this stolen!
Backpack – use it for your school stuff or for general travel and weekend trips!
Small duffel/wheelie suitcase – if you travel on the weekends or breaks, this is nice to have. Make sure it fits your budget airline's baggage specs though!
Money belt – if you want the extra security, bring it just in case.
If you plan on traveling during the weekends/breaks and (especially if you plan to use budget airlines like Ryanair), I recommend you forgoe checking bags and bring it all as a carry-on. The only problems is weight/size; Ryanair is infamous for this! You might do better with having a small suitcase that fits the airline's dimensions, or a backpack is a nice alternative. Wheels or straps. It's up to you.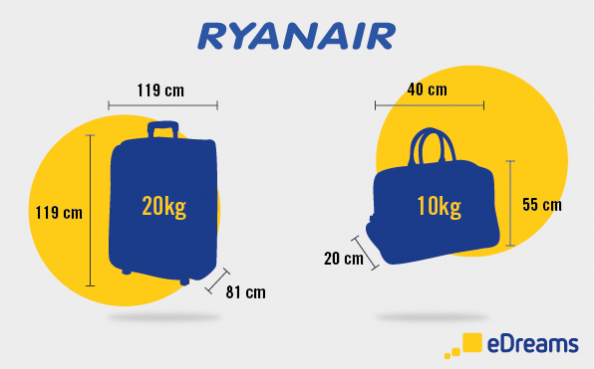 Full Packing List
This is my all-you-could-possibly-need packing list. You do not need everything here, no should you bring everything listed here. Sim it down or add onto it as you see fit. Remember, leave extra space/weight for all your souvenirs! I guarantee your bag will come back heavier than when you left.
THE BASICS:
Shorts
Capri
Long Pants
Shirts/Blouses
Long-sleeveshirt
DRESSY:
Skirts
Sundress
Dress (going out)
INTERIOR WEAR:
Socks
Underwear
Bras
Sports Bra
Tank-top/Undershirt
Bathing suit
Sarong
OUTERWEAR
Jacket
Cardigan
Raincoat/Waterproof Shell/Annorak
Wicking Cover Jacket
Microfleece/Fleece Jacket
Down Jacket
SHOES
Flip flops
Sandals
Heels
Boots
Flats
Sneakers/hiking boots
ACCESSORIES
Scarf
Gloves & Winter hat
Sun hat
Baseball cap
Sunglasses
Jewelry
BAGS
Purse
Messenger bag
Clutch/small purse
Backpack
Duffel/small suitcase
Ok, so the above is mainly your clothing and accessories. Let us not forget the other important items, like cosmetics. Let me start by saying that most places have everything you could need as far as cosmetics goes! It may not be your favorite brand, but if you are not too picky, bringing a little and then buying it when you arrive is the best way to go. If you are really close on your weight or size, this is a good way to reduce your weight. Alternatively, if you have room to spare, it is a good way to save money, as this stuff (with the conversion rate) tends to be more expensive abroad. Just make sure if you bring it, to pack it right. The last thing you want is your conditioner opening up in your luggage over your 10 hour flight… I ended up bringing a little of everything and then just replaced things as I went.
The list below of way over-detailed, but I tried to think of every item a girl might bring.
COSMETICS
Any necessary medications!
Glasses and Contacts – if you are blind like me, you will want to remember this. Also remember to bring enough contacts with you to last you to the time you are abroad!
Contact solution
Razor – just bring one and then buy the rest abroad. If you are not checking your luggage, this may be an issue though.
Sanitary products – this was one of the only things I brought a lot of with me, because I am very particular and I did not know what I would find abroad
Shampoo & Conditioner
Face-wash
Lotion
Deodorant
Toothbrush
Toothpaste
Floss
Tweezers, nail files, nail clippers, ect.

Hairbrush/Comb
Hand sanitizer – you will want this! Get a tiny travel one. You will find a great use for this, especially in many public restrooms where they may lack soap or water altogether.
Pocket tissues – besides the runny nose, this is great for emergency toilet paper. I have noticed many restrooms lack toilet paper or do not have any left. I dislike being stranded on the toilet and then having to ask a stranger for assistance to hand my paper from the next stall over.
First-aid Kit – while it is good to have a small one, it is not terribly necessary, especially if you are with a host family. If you are in an apartment or on your own, perhaps more necessary. I like to have a tiny one when I travel though.
Sleeping-aids – to for the occasional help to get you adjusted to the new time zone and if you have trouble sleeping on overnight buses, etc. I am so glad I had these.
Medicine – while you can always make a run to any pharmacy or drug store, I think it is always good to add some of the following to your small first-aid kit… Molsekin/bilster bandaid, Ibuprofen/Tylenol, Tums, Gravol motion sickness, a cold medication, and Cortisone cream/Benedryl).
MISCELLANEOUS:
Voltage convert and adapter – Ok so you will want a voltage converter, so you do fry your electronics or short out the circut, but you also want an adapter so your plugs can fit into the outlets. Some modern chargers have voltage converters built in or it is not even necessary, so look int that. I got an "all-in-one" where all I have to do is swap the different USB cords.
Camera – you will not want to miss out on taking photos of all the amazing places you will see! If you have a DSLR, bring it! I did. Just be extra careful…
Phone – if you have an iPhone, you can get an international SIM card. Other options include renting a local number and SIM card. This is what I did. But I also brought my smart phone over to use when there was Wi-fi.
iPod/MP3 – music makes a lot of things better
Laptop – you are there to do schoolwork, right? iPads are a nice, travel-friendly alternative too if you have one available.
Mini-travel bottles – for those times you want to travel around to a hostel for a weekend, but do not want to tote around the big bottle of your shampoo. Also you can fly with them.
Ziplocks – they're handy. Bring one or two.
Quick-dry towel – Great for independent travels (for your hostel!). You might not have a towel  to dry yourself off with. These work nicely. They are also light and compact and dry really fast. If you intend to do a lot of traveling, you will want this!
Sunscreen – I forgot mine. You'll want it! This shit is expensive in Europe!
Water bottle – Buying 1 Euro water is nice, but it adds up. Plus, be nice to the environment. Most of the tap water in the EU is potable (safe to drink) and tasty too!
Umbrella – You will want this.
Laundry bag – your host family (if you're living with one) may give you one. If you are in a different category, you may want to invest in a laundry bag, or a collapsible sack.
Notebook – they come in handy. Write stuff down (like your amazing adventures). You will want one with a writing utensil.
Travel alarm clock – you probably have an alarm clock on your phone. If not, get one of these.
Compression sacks – they're good for getting clothes to fit in one bag, but weight will still be an issue
Waterproof bag – I have a small one for my electronics. You never know when it will rain, and I rather my electronics not get wet when I'm touring a city. (Saved my phone and camera in Salamanca when it down-poured!)
Locks – a padlock or a key lock is always handy, especially if you'll be staying in any hostels! Most good hostels have lockers, but they charge you if you do not have your own lock. I brought my high school combo lock and I'm so happy I did! If you use them on your luggage, make sure you purchase the TSA approved locks.
Flashlight – this is really nice to have, especially when you are in a hostel or are traveling. Headlamp is a nice alternative too.
Eye Mask and Earplugs – do you like sleeping? It is the best way to travel.
Deck of cards – I found that this was fun to use time to time and fun (slightly old-fashioned) way to get to know other people.
Pillow – if you have room, a travel pillow is always nice.
DO NOT FORGET… *Make copies of everything!*

Passport & Visa – having a copy of your passport and visa is often the best way to identify you. In Spain you must carry your papers of identification on you at all times, as the police are allowed to question you for any reason and ask for you papers. They are pretty understanding if you have photocopies instead of the real things. Keep your passport and other original documents at your residence instead. I would laminate your passport copy to preserve it.
Credit card – remember to tell your credit card company you will be abroad! Look to see if you will get any fees or charges for using your card abroad! Lose your card? Photocopy helps for locking your account, and getting the "lost or stolen" number.
Debit card/ATM card – remember to tell your credit card company you will be abroad! Look to see if you will get any fees or charges for using your card abroad, especially when using an ATM.
Student ID – It can be useful in getting student discounts.
License – It usually is not a valid form of identification while abroad, but you will need it when you return home!
Other important paper documents you might need…
Further Advice: I keep a tiny notebook with all my emergency numbers…. Local police station, ambulance, ect. (as 9-1-1 doesn't exist here); taxi companies, credit card company and bank customer support numbers (just in case your credit or debit card was stolen) as well any other phone number or information that you would need. Keep this separate from your wallet/phone, ect.
(Having my "lost or stolen" credit card international number was helpful when my credit card was stolen in Barcelona. I didn't have to go online and look up the number, I called them right then and there and suspended my card! No problems!)
What did you think of my advice? Do you have anything to add from your own experiences? Comment below!
Have a great trip!!!