Today was "Day 2" of the Madrid Orientation. We have been visiting the campus of Universidad Carlos III de Madrid (University of Carlos III of Madrid) and getting oriented to various parts of the city, places on campus, and most importantly how to use public transportation.
Madrid Public Transportation
I have to say that Madrid, compared to a city like New York City, is so clean! This includes the metro system, and the trains are always on time (except for Sundays when everything runs a little bit slower). There is the metro, trains, and buses for public transportation as well as taxis. The metro is very easy to understand, and I only got on the wrong metro once before I learned how to find where I need to go. Trains, likewise, are fairly easy. They all have logical maps and I have used the train/subway system a few time in New York City.
Buses on the other hand… I am not comfortable with them yet, though I have a whole semester to learn how to use them. Apart from the line that stops right by the apartment, there is no clear map that you can use to navigate or if you need to switch bus lines. I will need to learn how to use the buses, particularly because the metros close between 11:30 pm and 1:30 am, and open again at 6:00 am.  During the night hours you need to either take a taxi (expensive) or use ride a night bus or "búho" (owl). I'm trying to postpone using a night bus for as long as possible.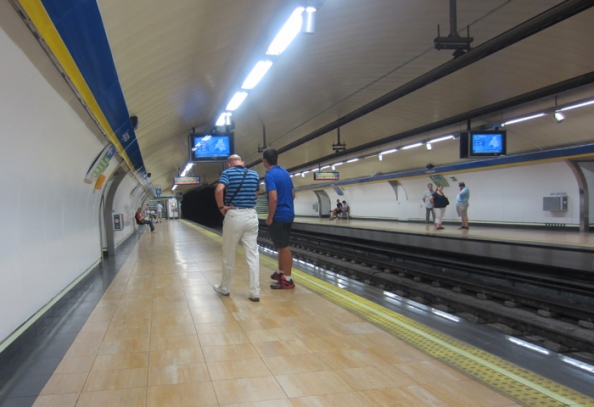 One of the Commuters
I think I almost died the first time I saw how long it would take me to get to school from my house, or well apartment. My commute is almost an hour! I am never taking advantage of how easily I have had it. I've always been able to commute to school in the states, which was either by school bus or car, under fifteen minutes when I was high school, and I've so far lived on campus at college.
1.) Walk to the metro station (~5-10 minutes)
2.) Wait for metro (~0-6 minutes)
3.) Take metro to bus station (~5 minutes)
4.) Wait for bus (~0-5 minutes)
5.) Ride bus to the University (~20-35 minutes depending on traffic)
6.) Walk from bus stop to classroom (~1-5 minutes)
So Much Walking
I am in good shape. I have played fútbol (soccer) most of my life and can easily run a 5k, but still this walking has been killing me. Perhaps that is an over-exaggeration, but from the moment we wake to the moment we go to bed, we are on our feet walking all day. Any moment I get to sit down, my feet go, "ahhh…" and I get this strange feeling of utter exhaustion. So far this week has been both mentally and physically exhausting, with so much to take in at once, speaking constantly in Spanish, and walking, walking, walking. Glad I decided to bring some sturdy (yet fashionable) Teva Sandals to walk around in, or my feet would be in a lot more discomfort.
Ask a Madrilean (Madrileaño) if something is far away, and most likely they will go, "Nahh, not far at all!" Two hours later of walking you finally get to where you need to. There seems to be a gross difference between our perceptions of distance. These people walk everywhere! I guess while not many youths play as many sports as American kids do, they walk constantly and over "large" distances. The first day I complained at how far the closest metro station was to my house, which can be done in a leisurely ten minute walk, or if you're late to class, you can sprint the thing in five.
Getting Lost in Madrid
I guess getting lost is the only way to really learn. I've gotten lost trying to find a number of metro stations, certain street corners, or specific shops and it has only been two days. Thankfully, my Spanish has gotten me to where I need to be, or I stood with a large map pressed to the side of the building or ground (like a tourist), trying to orient myself. I'm getting better though!
Like A Freshman
I spent all my Sophomore year, glad to be… well, not a Freshman. No one likes not knowing where they are, what they are supposed to do, the norms, or where to go. Well, here I am in Madrid, the largest city in Spain, feeling just like a Freshman again. Only this time, I can't speak English.
We have been touring both the Carlos III University campus, and learning what each building is and where we need to go, as classes start next Monday. We also have been doing some touring Madrid and doing a lot of sightseeing, this includes Plaza de Sol, the center of Madrid. It helps to learn where all the major things are and other famous sites.