It was a nice final day in the Rioja, and that evening I was able to have some fun eating pinchos (like Tapas, but typical to the Basque region) and drinking lots of different kinds of wine. Despite trying to be responsible and decide to sleep instead of going out with everyone else, as I had to get up early for the bus to Madrid, I ended up getting little sleep. The restlessness returned around 4:00am and refused to subside until I finally got up and started packing up my bags.
I have never been a overly-nervous person, but going abroad has definitely put me out of my comfort zone, and I seem to easily move from excited to anxious which builds up while I sleep. I was though really looking forward to meeting Carmina. I didn't know what to expect.
Meet Carmina
All I knew about her was she was very kind and grandmotherly, quite active for her age, living alone. For the past 25 years she has hosted students, and has received nothing but good reviews from previous students. So I was not too worried, but still it is a new experience.
Home Sweet Home
I was surprised to see I had not only my own room (set up with a bed and desk, dresser and closet — bigger than any single room I would have at my school at home), but my own bathroom too! Carmina was super sweet and welcoming, reminding me of Loreto and Adrian's wonderful grandmother, Presen. She gave me a warm hug and sat me right down for a big meal of ravioli with a cream sauce, salad, and chicken. Yum. Although it's only the first day, I have high hopes for how things will turn out.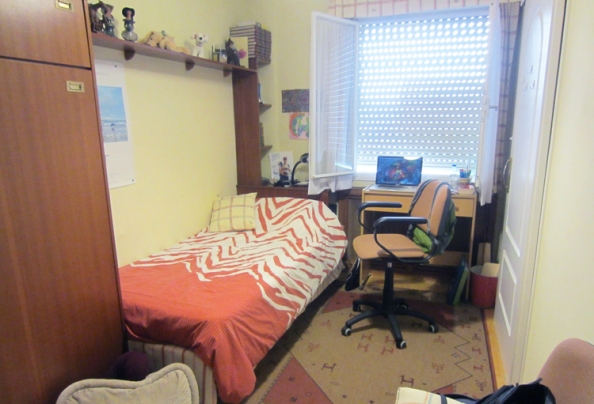 My habitación for the semester.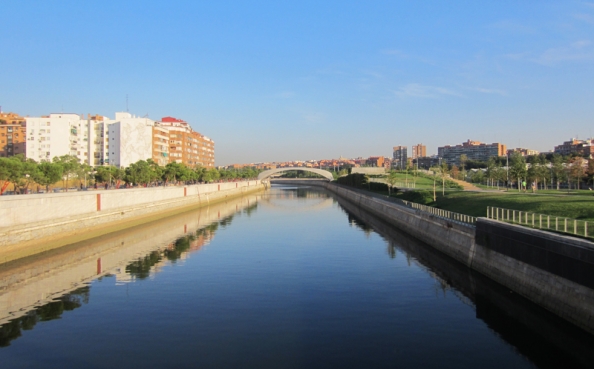 The river park runs through much of the southern part of Madrid. It's pretty close to where I live, and I think it will be a perfect place to run!