I have finally arrived in Spain. I have been up for more than two days and a night, with only four hours of sleep on the plane and many more hours traveling. The last few days have all blurred together giving a strange sense of how time is moving. Is it day one? Day two?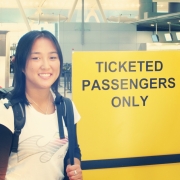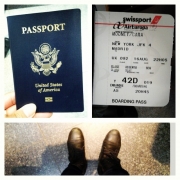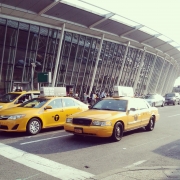 See these images and more on Instagram
JFK to Madrid
I met a large number of Italian students who had spent a few weeks of their summer at a progrm at Rider University. They helped to keep me entertained as we waited the three hours for the plane to arrive, and I ended up sitting next to two very nice Italian women in seats that could barely fit someone 5'3".
For anyone who has traveled over time zones, it is a strange feeling as you adjust. Despite not having slept or eaten much for a long period of time, I found myself in a strange state of sleep deprivation: too tired to be active, and not tired enough to sleep, and too out of whack to eat anything.
Although my program doesn't officially start until September 1st, I am going two weeks early to visit with family friends who live in the Basque Country in the north of Spain. The original plan was to stay overnight at a Betty's house (a friend of one of our family friends) in Madrid before going to the Rioja, but plans changed last minute, and not one hour off the plane, did I need to hop on the last bus of the day and take the four hour ride out to Santo Domingo and San Andrés, an ancient village in the middle of the Rioja.
I'm On A Bus
Unable to sleep (and not wanting to either), I spent a good portion of my time watching the landscape. The countryside is quite barren of trees, as fields of golden wheat color the ground far into the distance where they meet up with the foothills of the mountains. I spent the rest of the time chatting (in Spanish) with a girl on her way to Pamplona, who attends a university in Sevilla. We exchanged numbers on the off chance that we might be able to meet up if I travel down to Sevilla (and I intend to!).
Spanish doesn't come easily when you're fatigued and tired. Getting handed a bus ticket and pointed to the terminal proved to be a little more than slightly confusing. An hour into the ride, I had a sudden feeling of panic of, "What if I got on the wrong bus?" There was really no way of knowing the stops, no announcement, and no sign listing upcoming towns. The girl I sat with was the last stop, but paid little mind to what other stops were. Thankfully, I was able to put that terrifying thought to rest after asking the driver when my stop was.