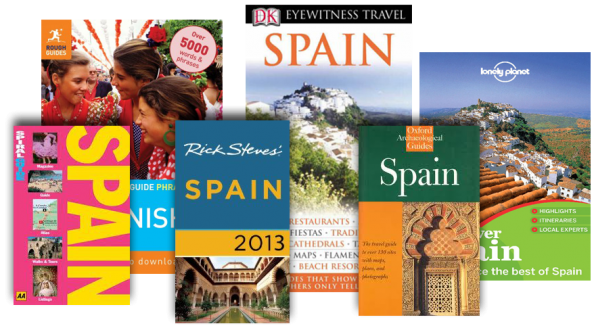 The countdown has begun, and I cannot help but angst over things, which is making a queasy concoction with my excitement. Summer has flown by in a whirlwind of work, internship hours, and wonderful memories with my family and close friends.  I have wanted to go abroad for years, and now I am! Everything I felt earlier in the summer has tightened its grip, making for a giddy and nervous feeling in the pit of my stomach. There are so many questions, the biggest one being about my language skills. I will soon know, as leave this Friday from JFK to arrive in Madrid on Saturday (thank God! A night flight! I intend to be fully asleep by the time we reach cruising altitude.)
I have been asked if I'm worried about traveling by myself or being on my own. No, two years of college has well-prepared me for being away from home and I have traveled internationally by myself before. What I'm anxious about is the language and if I will be proficient enough to stay on top of class work and interact with everyone (including my host family) well enough. I'm excited to be traveling and have such a different experience. I can't wait to see my Spanish friends again and meet my new host family. The idea of eating new food is scary, but cautiously welcomed and I have won the right to bring my DSLR with me to capture all these moments.
Now that the end of my summer is really in sight, I feel there is so much I have yet to do or accomplish! I have been browsing my way through a number of different guidebooks as well for Spain and surrounding areas, hopping to gather some insight of not only ways to get an idea of places to visit and to prepare me (and avoiding scams and pickpockets), but to ease the transition into living in Spain.
Packing
How does one fit 6 months worth of clothes, accessories, electronics, and whatnot into one suitcase? I have been avoiding this for a while, but I no longer can. I will need to pack for all sorts of weather, which will range from hot and dry 90 degrees F to a chilly 30 degrees F when I return in January. I've scoured over what seems like hundreds of articles on packing, women and packing, and a backpacker's guide to packing light.
Everything that I have been laying out to pack covers the floor of the living room. This seems to be my own way to pack my luggage and pray it all falls under the airplane weight limit. At the moment, it wavers precariously between 47lb which is only three pounds under the 50lb limit. At least 10lb I can say will be exchanged for things to bring back on my return.